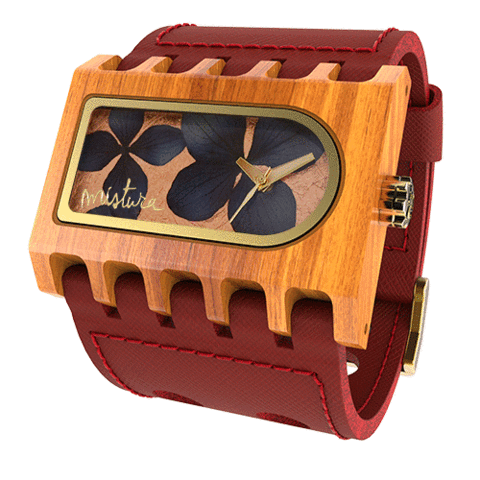 Typically, when someone says 'one of a kind' they don't truly mean that there is only one such product out there but rather that it is different from the mainstream collections. However, in the case of Mistura wooden wrist watches there are various selections available that are only made exactly that way one time because of the products and characteristics involved.

This line of quality watches can be purchased online and when reading through the inventory selections you will find that only natural products are used to make each and every product. For example, the Lenzo line of wrist watches uses teak wood for the face setting combined with 100% leather in various colors and exotic flowers that are preserved in the background of the face. The complete package cannot be generated in precisely the same manner every time which makes it one of the few truly 'one of a kind' timepieces in the world.

Mistura has several different collections of wooden wrist watches available online so that users can find the item that suits them the best regarding lifestyle, matching quality and usability. Customers can even purchase a watch that is completely made out of wood from band to face due to the special process of growing, treating and cultivating the natural wood materials used in the production of such pieces. Leather, flowers and quartz are additional characteristics which are all made with the finest quality to deliver a product that tells time accurately and wears well throughout the years. These watches make ideal gifts for men and women and are able to withstand different environments for flexibility and professionalism.

If you are interested in buying and wearing a 'one of a kind' timepiece in the form of wooden watches then you need to go online and find the designated vendor that offers affordable price tags for these items. Simply choose wooden wrist watches online that you like the best, place it on order and then wait for it to arrive at your front door where you can unwrap the gift and start using it immediately. The online registration can activate your 5-year warranty to cover for replacements and repairs.
Nov 11, 2016

Category:

News
Comments: 0