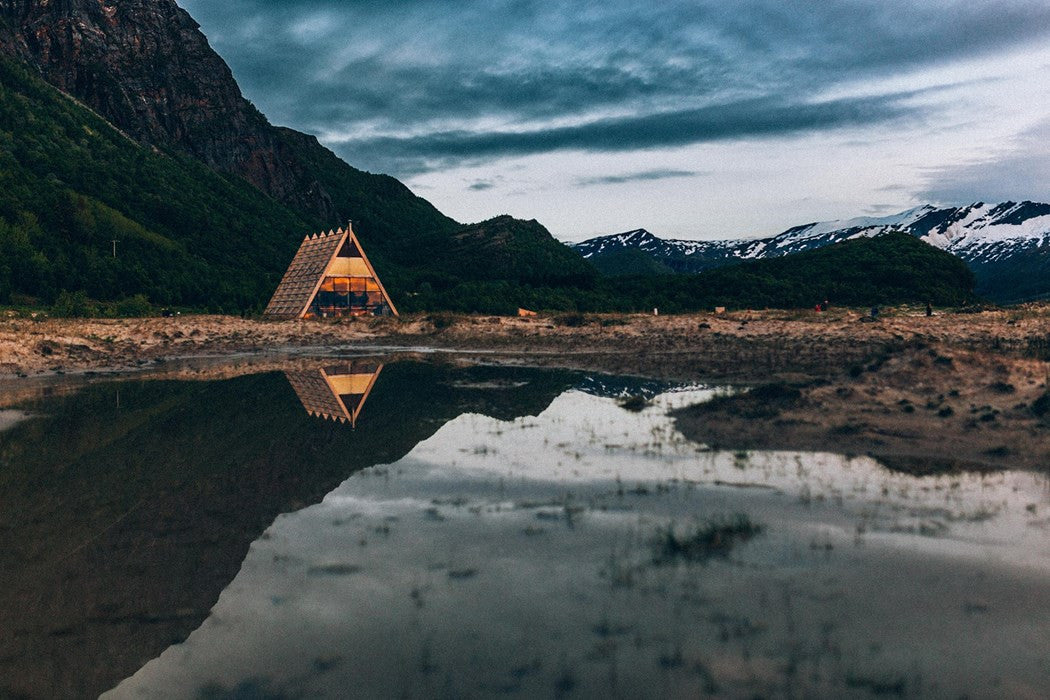 Took From anothermag.com
Nowadays, being asked which summer festival you'll be attending is as common a question as your choice of holiday destination, so popular have the host of annual musical and cultural celebrations become. And indeed, more and more frequently people are choosing to combine the two – opting to travel abroad for a festival, and to merge travel with revelry and artistic appreciation. Moreover, with rain one of UK festivals' most regular attendees, the promise of sunshine and more exotic surroundings holds a powerful allure. So, as the start of summer creeps into sight, we present a selection of the world's magical alternative festival destinations – spanning a Croatian island, a Polish coalmine and a Canadian cattle ranch.
SALT Festival, Norway: June 9-12 2016
The Western world is happily self-absorbed in its daily rhythms and routines – we thump heavily and quickly from one microcosm to the next, often without pausing to think about the repercussions of our actions on the wider planet – but SALT is an organisation seeking to change that. Comprised of a collection of portable structures inspired by the traditional fish drying rack, or fiskehjelle, each year it travels to a new region in the northernmost part of the world – it began on an Arctic beach on the island of Sandhornøy, northern Norway, and is destined for Greenland, Iceland, the Faroe Islands, Ireland, Scotland, Spitsbergen and Alaska before its time is up – where visitors can experience extraordinary art projects, concerts, theatre and taste local foods. "For thousands of years people have followed the movement of animals and the seasonal rhythms in the Arctic landscape," the organisers explain. "Footprints are few. SALT is inspired by and moves in that same Arctic landscape with care and respect."
This year the festival moves to Bergen, Norway, where it will celebrate the cultural heritage of Norway as a nation, and provide a venue for Querini, an annually performed opera. "It is a dramatic story about shipwrecked Venetian sailors who washed ashore at Røst in 1432, and about dried fish, the difficult life at sea, solidarity, and love. The sea captain Pietro Querini's report of his odyssey, which is archived in the Vatican Library in Rome, offers unique insight into daily life in a fishing village in northern Norway in the 1400s." A mind-broadening cultural experience with breathtaking views. What could be better?
Obonjan, Croatia: July 28 - September 6
Last year, the British promoters behind Unknown Festival – the highly popular, experience-driven event held in the seaside town of Rovinj in Croatia – purchased the idyllic island of Otok Obonjan, just off the Dalmatian Coast, with the dream of creating a one-stop destination for "art and music, wellness, sustainable living, amazing food and drink and fun…" One year later and their vision has been realised with tickets to Obonjan now on sale, offering festival-goers and holiday makers alike the chance to visit the floating paradise any time between late July and early September to enjoy a wide array of music (from hip-hop and funk 'n' soul to electronica, house and techno) as well as an enlightening series of talks and workshops, covering everything from ecology to astrology and free-diving.
Food will pay tribute to traditional Croatian cuisine, with ingredients purchased from local suppliers, promising lots of fresh seafood and organic vegetables. While the wellbeing centre, located deep in the island's woods offers yoga, healing and meditation to ensure spiritual nourishment, there will also be art exhibitions celebrating both local and global creatives, as well as permanently funded installations designed to enhance and complement the island's natural beauty. Indeed, the best thing about the project is its dedication to sustainability and eco-friendly living: "We see Obonjan island as a microcosm; a stage where we can bring into focus how resources get used and reused," the founders explain. "We want to have a lot of fun on a beautiful island, while developing new ways of living, working and playing that will help shape the future of our planet."
Festival Tauron Nowa Muzyka, Poland: August 18-21, 2016
An abandoned coal mine in the centre of Katowice, the capital city of the Upper Silesia region of Poland, forms an industrial setting for Nowa Muzyka, or New Music, a weekend-long celebration of the very best in jazz, nu-jazz, electronica and dance music. The festival takes place between two abandoned mine shafts, Bartosz and Warszawa, while old production halls, warehouses, carpenters' workshops and a pressure tower make for fascinating surroundings. Since its foundation in 2006 the festival has sought to create support for Polish music, and as it has grown it has attracted more and more big-name acts, from Bonobo to Neneh Cherry, while this year's line-up features the likes of Battles, Actress and Floating Points.
Colours of Ostrava, Czech Republic: 14-17 July, 2016
Where once Dolní Vítkovice in the Czech Republic played host to coal mining and iron production – the site ran more or less continuously from 1828 until 1998 – it is now home to a radically different population: for one weekend a year it is flooded with all manner of music aficionados for Colours of Ostrava. The festival is defiantly multi-genre, and this year will host Australian psych-rockers Tame Impala and ethereal songstress Anohni over its 16 stages (16!), while the backdrop of enormous rust-coloured piping, disused furnaces and creaking towers make for a decidedly atmospheric experience.
Shambhala Music Festival, Canada: August 5-8
Located on a 500-acre, working cattle ranch nestled in Canada's West Kootenay mountains (British Columbia), much-loved electronic music festival Shambhala is another perfect opportunity to enjoy music and art in extraordinary surroundings. An annual, family-run festival which began in 1988, Shambhala shuns corporate sponsorship to this day and is operated entirely by volunteers, resulting in a truly unique and creative atmosphere founded on shared passion – Canada's answer to Burning Man, if you will. Boasting six stages and a line-up of over 300 artists made up of the best in both emerging and established talent – this year's headliners include Ephwurd, Boyz Noise and Gorgon City – the festival's principal focus is dance music, but you can also enjoy a number of art exhibits, as well as a delicious selection of organic food. If dancing and the great outdoors are your thing (you will be surrounded by gardens, hay fields and grazing cows, horses, farm dogs, pigs, chickens and miniature donkeys), then Shambhala is the place for you.
May 05, 2016

Category:

Mistura
Comments: 0